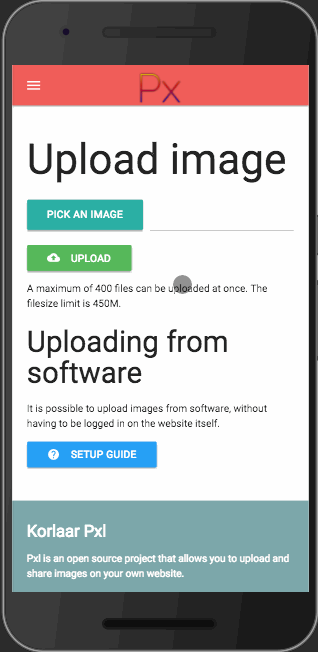 As some of you might have already noticed, I have open sourced a project on GitHub named 'Pxl', named after the original closed-source image hosting site Pxl.lt which was known for its no-hassle custom branding and sharing customization. After Pxl.lt was shut down, I decided to develop a complete rewrite of the original concept and open source it so that everyone can set up their own instance and enjoy the features of Pxl that they loved before, like the automatic deletion of uploaded images after a custom time period.
Now quite a few weeks later I've managed to set aside some of my spare time to work hard on Pxl's open source clone, made possible using the Laravel framework (apparently a quite popular framework which I had never used before, so I decided it would be a nice exercise for myself). At the time of writing, I have already completed a lot of Pxl's core functionality and my friends and I are actually already using a private instance of it already.
As of now, there is no extensive manual or setup guide, but many important functions are already implemented, and you're free to set up Pxl on your own web server right away! Functionality which I found important that I've already implemented includes, but is not limited to:
Multiple users, authentication
Support for multiple and custom domain names, including support for secure connections on those custom domains
Two-factor-authentication
Social media embeds and screenshot previews, including custom branding
ShareX support
A fully working image gallery for managing all of your uploaded images
The automatic deletion of uploaded images after a specific time since their upload date
If this sounds good to you or you were already a fan of the concept, then feel free to try out Pxl for yourself – It'll be completely yours, as you'll have to set it up on your own server. Get it now for the low, low price of free, on GitHub!
For more information, visit Pxl's website.